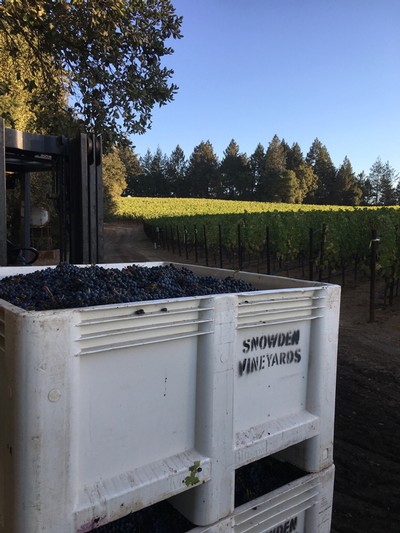 We're beginning to release our red wines from the 2018 vintage, so I want to share my impressions of the vintage.
The 2018 spring was mild with just enough rain accumulating in the ground over winter. Both bud break and flowering occurred a bit late, under even weather conditions of abundant filtered light creating plentiful and even fruit set. This filtered light was due to wildfires elsewhere in the state, creating a layer of smoke very far up in the atmosphere which reduced UV rays by 30% -- but which never reached ground level to interact with the fruit. The relatively mild summer and autumn, with few days above 100 degrees, and even, moderate temperatures, allowed for slow and gentle ripening. (Click here for an excellent graphic summary of the 2018 weather put out by the Napa Vintners.)
Harvest was late and drawn out, for the red varieties extending from the 20th of September for our Merlot to the 14th of October for our Petit Verdot. The berries and clusters were large, juicy, and perfectly healthy and ripe.
The devastation of the 2018 wildfires aside, the vintage is a complete knockout. These are some of the brightest, most aromatically intense wines Napa has seen in almost a decade, with a finesse and a silkiness of tannins unmatched in recent memory.
Our 2018 Merlot came out last fall; the '18 Cabernet Franc has just come out; look for the '18 Cabernet Sauvignon "The Ranch" any day now; and the '18 Brothers and Los Ricos Cabernets in the fall.