Private Tastings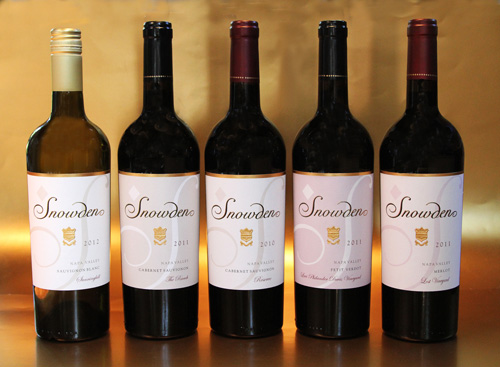 We are currently relocating our private tasting room in St. Helena and anticipate the new space will be ready to receive visitors around the first of May; at the present time, we are setting reservations for tastings on or after May 1; we regret any inconvenience this may cause
We're delighted to offer private wine tastings by prior appointment for groups of up to 8 people at our offices in St. Helena.
To request an appointment, click below or email us at tasting@snowdenvineyards.com or phone us at (707) 963-4292. Include your preferred date and time, the number in your party, and the best way for us to contact you.
Health Note: we are only offering private tastings by prior appointment; we follow all applicable health guidelines; and all of our hosts have been fully vaccinated. For our mutual safety, we ask that all members of your group be fully vaccinated. (If this is not possible, you can contact us to explore health and safety accommodations.)
---
Information on Tastings

Scheduling
We schedule tastings by matching your availability to the availability of our hosts on a request-by-request basis.
When we receive your request, we'll contact you to let you know if your requested time is available and get your directions for payment.
If you decide to schedule by phone, our office is normally staffed from 10AM to 2PM, Tuesday through Thursday.

Cost
The tasting fee is $40 per person and includes four wines.
Each tasting fee may be applied as a credit toward each $100 or more of wine purchased during the tasting.
Tasting fees are waived for our Wine Club members and the guests who accompany them. Club discounts apply to any wines purchased by members.

Location
Tastings are held in one of our offices in or near the town of St. Helena.
We'll provide directions when we confirm your reservation.
Please let us know if you would prefer a tasting location without stairs.
Tastings are limited to persons 21 years and older. Please be sure all participants carry legal identification.
---
Reservation Cancellation Policy
To cancel a reservation, contact us by email or phone. We will refund prepaid fees if we receive notice at least a week in advance; or on shorter notice if we schedule another party for your timeslot; or on shorter notice if cancellation is due to health issues of your participants. If we need to cancel a reservation, we will refund any tasting fees paid.