Woodlands and Vineyards
---
The Snowden Ranch is located on the eastern slopes of the Napa Valley between St. Helena and Rutherford. Although hillside sites like ours can appear steep and formidable from the valley floor, they often hide surprisingly level and welcoming terrain. Writing in the St. Helena Star in 1880, a reporter approaching our property from the west, put it like this:
"Those who only pass through the center of the Napa Valley have little idea of the vast room for "ranches" in the mountains on either side. What is apparently a forbidding wall of rocks is really a fertile and pleasant country, well watered with living springs and always rich enough for grapes and other fruit, with usually a little room for grain and hay. One of these little "pockets" of fertility is found by going in from the east side of the valley ..."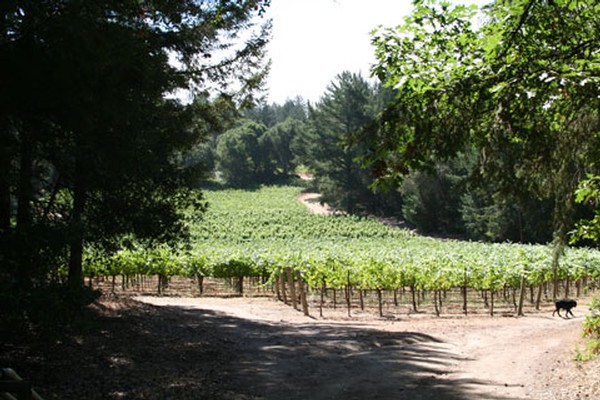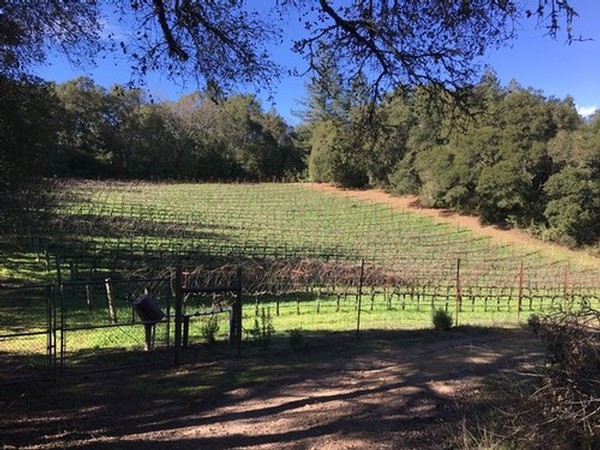 Our western-most vineyards – the Los Ricos Vineyard and Pool Block – are accessed by way of Taplin Road, which extends east from the Silverado Trail past the Joseph Phelps and Heitz Wineries through tiny Spring Valley. These vineyards are situated at approximately 600 feet of elevation and are within a few hundred yards of the eastern boundaries of the St. Helena and Rutherford appellations. Access to our main vineyards is by way of Rutherford Hill Road. We refer to these blocks as the Brothers Vineyard, the Lost Orchard, and the Blending Blocks. They lie at 800 to 850 feet of elevation approximately one mile east of the St. Helena and Rutherford appellations, a mile and a half north of the Pritchard Hill appellation, and two miles south of the Howell Mountain appellation.
Like most all of the better vineyards in the Napa Valley, ours are pruned, trained, and harvested by hand. Each vine is visited by a skilled vineyard worker a dozen or more times in the course of the season for pruning, shoot thinning, tying, crop thinning, canopy management, weed removal, and finally harvesting.
We farm our vineyards in pursuit of the overall goal of becoming organic. We've minimized the use of chemicals and have altogether discontinued the use of Roundup or other herbicides, instead removing unwanted weeds mechanically and by hand. Once a vineyard block is established, we farm "no till," which encourages beneficial organisms to develop a balanced and healthy ecosystem within the vineyard -- except when we need to introduce nitrogen organically into a field, Then we plant a green manure cover crop in alternate rows. In the spring we lightly till those rows to capture the nitrogen. Since 2014, the only thing standing in the way of fully organic farming is the need to micro-amend for low phosphorous in our soils. We have been piloting organic phosphorous amendments in our Brothers Vineyard for the past six years. When we find one we're sure works, we'll be fully organic in all our vineyards.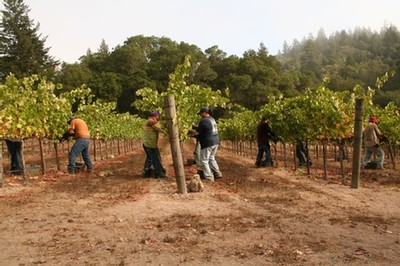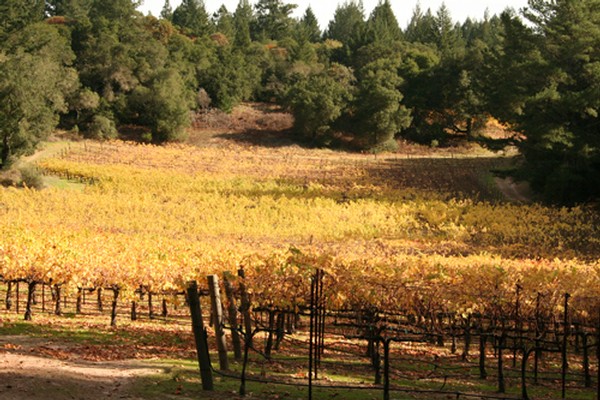 We call ourselves "stewards" of our property as a reminder of our responsibility to the woods, the wildlife, and the overall environment. When the property was first homesteaded in the late 1870s, an astonishing 75 acres of forest were cleared for vineyards and orchards. By 1891, sixty of those acres were planted to Zinfandel, Malvoisie, and Chasselas.
Today, we farm only 23 of our 160 acres. The rest have reverted to woodlands – a mixture of Oaks, Madrone, Bay, and other hardwoods; and conifers, such as Douglas Fir. We believe this is a more reasonable balance – the grapes we raise and the wine we make from those 23 acres enable us to preserve the remaining 137 acres in a wild and natural state. During our years at the ranch, we have been pleased to share the property with Mountain Lions, Bobcats, Coyotes, Foxes, Bears, Bats, Piliated Woodpeckers, Golden Eagles, Bald Eagles, Red Tailed Hawks, Red Shouldered Hawks, Kites, Great Horned Owls, Screech Owls, Barn Owls, White Tailed Deer, Raccoons, Jack Rabbits, Striped Skunks, Western Spotted Skunks, Quail, California Golden-Belly Newts, King Snakes, Gopher Snakes, Garter Snakes, Western Diamondback Rattle Snakes, Blue Bellied Lizards, Fence Lizards, Skilton's Skinks, every Finch ever to have set wing in the Napa Valley, Millipedes, Wood Rats, Field Mice, Gophers, Moles, and innumerable other species from all of the animal classes. These animals and the woods they inhabit are the real owners of the Snowden Ranch.