The Lost Orchard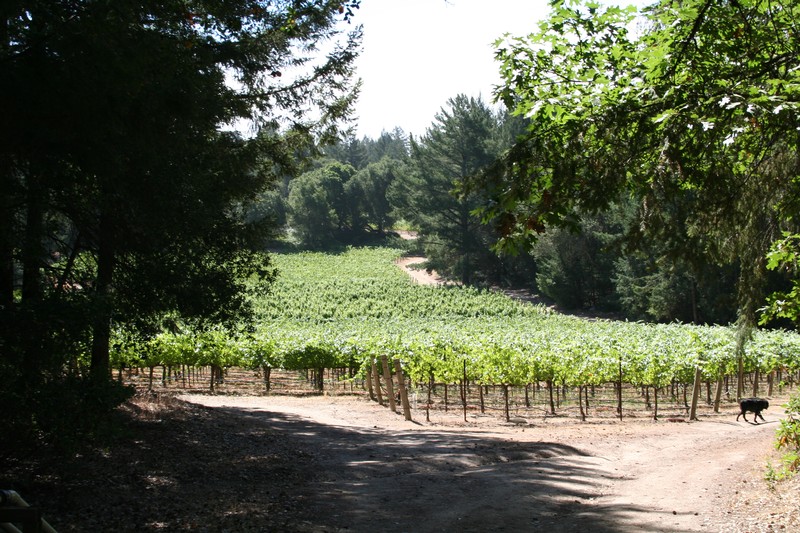 We call the five acre vineyard at the east end of the ranch "The Lost Orchard." Lying at elevations ranging from approximately 800 to 830 feet, the vineyard is located in a shallow bowl between the hilltop plateau and the precipice dropping off into Conn Valley on the east. From above, the vineyard is hourglass shaped, extending generally east-west, with two acres of Cabernet Sauvignon at each end and one acre of Sauvignon Blanc at the center. As with the other vineyards on the property, the soils are predominantly volcanic Rhyolite.


The Cabernet Sauvignon blocks at each end of The Lost Orchard are planted to Clone 8 on 110R rootstock. The current vines were planted in 1997. The Lost Orchard is the coolest vineyard block on the property. During the years The Brothers Vineyard was out of production, The Lost Orchard competed with the western-most Cabernet Sauvignon blocks for inclusion in our Reserve Cabernet Sauvignon. With The Brothers Vineyard back in regular production, the Cabernet Sauvignon from the Lost Orchard is the central component of our Cabernet Sauvignon "The Ranch."
The swale at the center of The Lost Orchard is a single acre of Sauvignon Blanc. The vines are Clone 1 on alternating rows of 101-14 and 1616C rootstock. The acre was originally planted to Cabernet Sauvignon, but it didn't thrive there – the soil is unusually shallow and the acre is the one spot on the ranch susceptible to frost damage. Sauvignon Blanc -- a late-breaking, early maturing variety -- has proved to be far more comfortable in the Lost Orchard's swale than Cabernet Sauvignon.
When the family arrived at the property in 1955, The Lost Orchard was exactly that: a gentle, forgotten vale at the east end of the property, circled with oak trees, blanketed with grass and ferns, and accented with an occasional ancient plum tree.
Through the late 1950s, Wayne Snowden, accompanied by his brother Roger, would take Scott and Randy to The Lost Orchard on warm summer evenings to camp – creosote-soaked canvas tent, red wine, and meat over a very carefully watched fire.