August 20, 2020 | Randy Snowden
We're Okay, and About to Start Harvest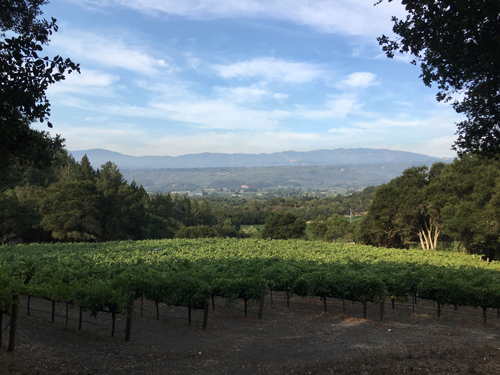 Thanks to everyone who's reached out to see how we're doing in the midst of this new year of wildfires. We're okay … so far. The Hennessy fire broke out two miles east of the ranch, but the prevailing breeze for the four days since then has been from the northwest, heading southeast – which has pushed the fire and its smoke steadily away from us … so far, in both the chronological and geographic senses. The winds could shift and bring the fire to us. And so far the fire has traveled 20 miles, to the peril of the cities of Fairfield and Vacaville. No one can be at peace if their good fortune means other people and a vast amount of wildlife and woodlands are being devastated. And, as to that good fortune … so far.
If you'd like to help, please consider the disaster relief fund at the Napa Valley Community Foundation.
Until four days ago, this has been a lovely, smooth growing year. The last four days were really hot, but not as hot as in 2017. Now that temperatures are returning to normal, we can say, the fruit and the vines appear to be sound and healthy.
We're hoping our first picks from the 2020 vintage will start around 4 tomorrow morning – the one acre of Sauvignon Blanc, plus a little bit of Merlot for a dry rosé.
We'll do our best to post as the harvest progresses. In the meantime, the photo, taken this past Tuesday morning, is from a vineyard we call either the Lower Vineyard or the Pool Block, depending on which side of the bed we've gotten out of.