Letting the Vineyards Speak
Our winemaker, Diana Snowden Seysses, shepherds grapes to glass with the goal of celebrating the character of our unique site and the seasonal variations of each vintage. Her winemaking approach emphasizes extreme care but is as "non-invasive" as possible. She ferments all of our wines with native or "wild" yeasts; she does not add enzymes to dissolve the skins; nor does she chaptalize; or "bleed" the must; or "cook" the must to force extraction; we press out our wines when they have fermented dry, rather than continuing to macerate on the skins and seeds for long periods; we don't "spin" or centrifuge our wines; or sterile filter; or "flash oak"; or reverse osmose; or leave residual sugar at the end of fermentation; or add sugar back after fermentation is complete.
We want the subtle flavor profiles of terroir and season to show through and highlight our wines. While each wine is unmistakably a child of the Snowden site, we never try for twins, preferring to explore the unique character each vineyard site and each vintage bring. Diana puts it this way: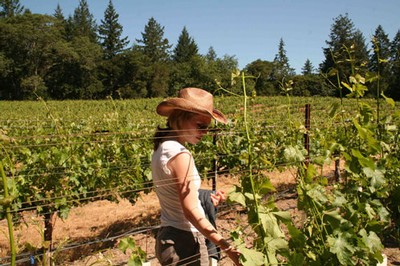 "The most moving wines, the most memorable wines, express the place they come from. My goal as a winemaker is to allow the site to speak. Terroir-specific winemaking requires the self-restraint to allow nature to do what it will, to create the environments that encourage favorable microbes to multiply naturally, and to wait for, not preempt, the signs that require intervention."
Our grapes are always picked by hand, sorted meticulously -- first in the field, then again in the cellar before crushing -- and fermented dry. The red wines are immediately moved into French oak barrels, where they undergo a native malolactic fermentation. After approximately 18 months of barrel aging -- 50% new oak -- the red wines are bottled unfiltered and aged for an additional 6 to 18 months before release. Our Sauvignon Blanc is crushed whole cluster and fermented by native yeast in a mixture of neutral (old) French Oak, stainless steel, and the occasional new French oak barrel. The wine does not undergo malolactic fermentation. It is aged in barrel sur lies until it is bottled approximately nine months after harvest.