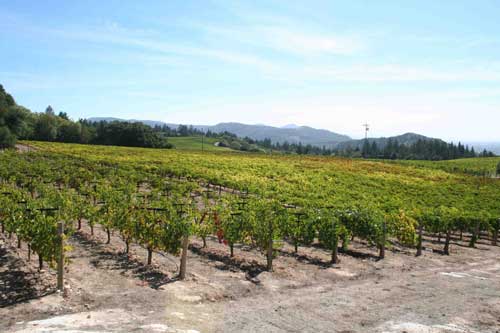 The Blending Blocks
The Blending Blocks total approximately 4.5 acres located adjacent to The Brothers Vineyard on the north and the Kathryn Hall and Sloan properties to the south. The blocks are planted to the primary Bordeaux blending cultivars: Merlot, Cabernet Franc, Petit Verdot, and Malbec.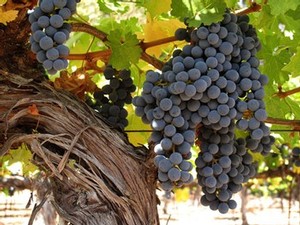 The two-acre Merlot block was planted in 1994 with Clone 181 on 110-R rootstock. Clone 181 has proved to be extremely well-suited for the site, producing fruit in smaller clusters and with smaller berries than some other clones. The Merlot is the primary blending grape in our second Cabernet Sauvignon -- "The Ranch" -- and contributes to the wine's soft, approachable character when young. Beginning with the 2010 harvest, we have also held out a portion of the Merlot crop to produce a 100% Merlot varietal wine.
The one-acre Petit Verdot Vineyard is named after Levi Philander Davis, who in 1878 homesteaded what is now the Snowden Ranch. We use the Petit Verdot primarily as a blending component in our Reserve Cabernet Sauvignons, although it occasionally appears in smaller percentages in "The Ranch." In 2011, we produced a small amount of 100% Petit Verdot as a varietal bottling – mainly to better educate ourselves about the character of the vineyard, the contribution our Petit Verdot makes to the Reserve blend, and the behavior of the varietal as it ages.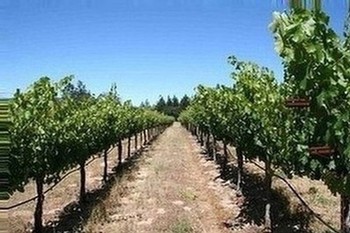 We planted the one-acre Cabernet Franc block in 1994. The fruit is the primary blending component in our Reserve Cabernet Sauvignons.
We planted four tenths of an acre of Malbec in 2011 -- at the same time we replanted The Brothers Vineyard -- using Clone 9 (the "Argentine Clone") on 420A rootstock.
2014 should be the first year with a meaningful yield from the new Malbec block. We are looking forward to exploring its possible role in the blends.